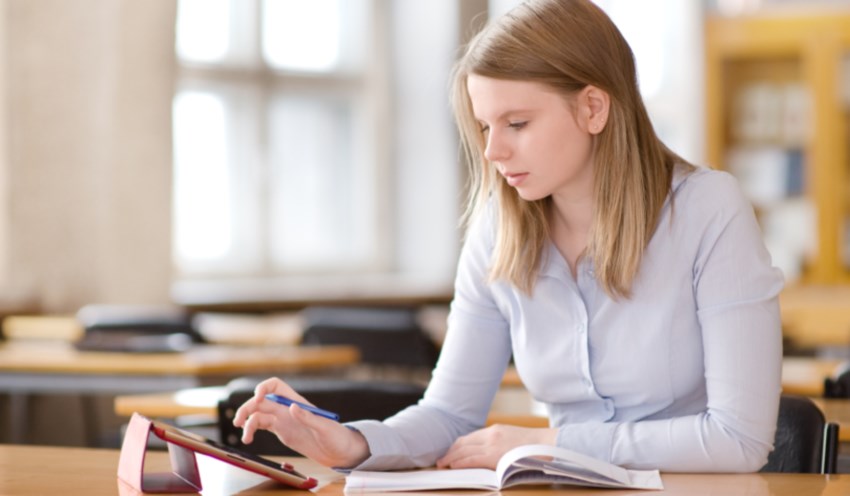 In preparing for your state insurance exam, the three most common study options include traditional classroom courses, insurance study manuals, and online insurance courses.  One style of learning does not fit everyone, so let's review what is included with each option.
Traditional classroom courses usually consist of an instructor verbally explaining insurance concepts from a manual or syllabus which may include a few visual aids to reinforce the material.  Although an instructor usually has a good understanding of the material, his or her explanations may not always be concise, consistent and clear every time it is presented.  In addition, since not every state requires the completion of a pre-licensing course before taking the state insurance exam, an instructor may or may not be certified by his or her Department of Insurance, depending on the state's requirement.
Preparing for the state exam with only the use of a study manual often includes text, illustrations and exam questions.  While the explanation of insurance concepts from a study manual may be consistent and clear, it may not always be up-to-date and it loses the interactive learning process associated with a classroom.
Online insurance courses take a multimedia approach by combining the interaction of a traditional classroom with the clarity and consistency of a textbook, while including some important additional benefits.
Flexibility
An online insurance course allows you to start and stop the coursework based on your schedule and allows you to set the pace of learning based on your needs.  Insurance training provided in a classroom requires you to attend class for 3 to 5 days, usually 8 to 10 hours per day, in which you listen to an instructor discuss concepts, take notes and highlight crucial sections in a study manual. This often results in time away from work, school or family.  In addition, learning is completed at a group pace, which often moves too slow or too fast for some people.  Once the class is completed, final preparation for the state exam consists of reviewing notes taken in class and reviewing the highlighted sections in the study manual.
Studying through an online course prepares you for the state exam the moment you log in since you are learning only the "highlighted" material, cutting out any extra verbiage often associated with a textbook and time spent in a classroom.  Online courses provide you with full access to its features, including instructor support, for the entirety of your enrollment period.  The enrollment period for our online courses is 90 days.
Accessibility
Waiting for an appointment?  In between classes?  Do you work best early in the morning or late at night?  Most online insurance courses can be completed anywhere and anytime from a PC, laptop, tablet and smartphone.  The best part is, unlike a classroom course, you may ask as many questions without fear of making a mistake in front of an audience or slowing down the rest of the class.  True one-on-one instructor support is available 7 days a week for your entire enrollment period, in comparison to the 8 hours of classroom time during the few days enrolled in a classroom course.
Depending on availability, the next classroom course in your area might not start when you're ready, or might not be available near you which will result in excessive drive time. This will result in a delay in obtaining your insurance license
Effectiveness
According to a technical report by the U.S. Department of Education, "The overall finding of the meta-analysis is that classes with online learning (whether taught completely online or blended) on average produce stronger student learning outcomes than do classes with solely face-to-face instruction.  In fact, analysis of 50 study effects, 43 of which were drawn from research with older learners, found that students in online conditions performed modestly better, on average, than those learning the same material through traditional face-to-face instruction."
Online courses continue to be an effective way of learning over traditional classroom courses and study manuals due to new technologies that allow you to access the material, as well as new types of features that help reinforce your understanding of the material.
Features
As mentioned above, material offered through an online insurance course has been reviewed and revised to be as clear and concise as possible.  In comparison to some classroom insurance courses that use a textbook for its curriculum or using only a textbook to prepare for the state insurance exam, online courses constantly streamline its content, adds new content as it becomes applicable to the state exam and can add new features at any time, such as:
Instructional videos
Interactive Illustrations and applications
Exam simulators
In addition to the features just mentioned, a unique feature that is included with our online insurance courses is an individualized Pass Report that helps gauge your readiness for the state exam, and acts as a personal instructor, guiding you through the course.  (To learn more, see Knowing When to Schedule Your State Insurance Exam)
Economical
A final benefit associated with online learning is the cost of enrollment compared to a traditional classroom course.  On average, online insurance courses cost around $100, whereas traditional classroom courses can cost up to 3 to 4 times as much.  In addition, there is no time or money wasted by missing work or driving every day to a classroom.